Get to Know Fountain Hills
Fountain Hills is an incorporated town in the eastern part of the Greater Phoenix area, bordered on the west by Scottsdale and on the east by Native American reservation lands. It is primarily a residential community, with a population of about 25,000.
There is really no principal industry here; business activities in Fountain Hills are mostly retail, professional services, health care, or arts/entertainment-oriented. If the phrase "bedroom community" is still used, it would probably apply well to Fountain Hills.
Fountain Hills, Key Statistics
Fountain Hills enjoy median and mean household incomes that are well above the state and national averages.
About 96% of the people living in Fountain Hills have attained high school or higher education graduation.
Unemployment is low. A relatively large number of people (more than 10%) work from home. About 75% of the residents live in single-family residences.
The average commute to work is about 26 minutes.
Crime can happen anywhere at any time but Fountain Hills is safer than most communities. Most crimes noted are property crimes, and the number of crimes committed is significantly less outside the town center area. Crime maps and the Sex Offender Registry can be found online.
Fountain Hills Weather
Fountain Hills is at an elevation of 1,520 feet, about 500 feet higher than the official elevation of Phoenix. As such, the temperatures noted in Fountain Hills may be one or two degrees cooler than Phoenix readings, which are generally taken at Sky Harbor International Airport. Still, it is in the Sonoran Desert as is all of the Greater Phoenix area.
Typically the weather data for Fountain Hills is collected from Scottsdale Airport. In the hottest part of the summer, July, the average highs are about 106°F. The highest temperatures may reach 115°F or more.
In the coolest part of the winter, December and January, the average lows are about 42°F. At the low end, there may be snow in nearby mountains, and Fountain Hills will experience some frosty mornings at or below freezing.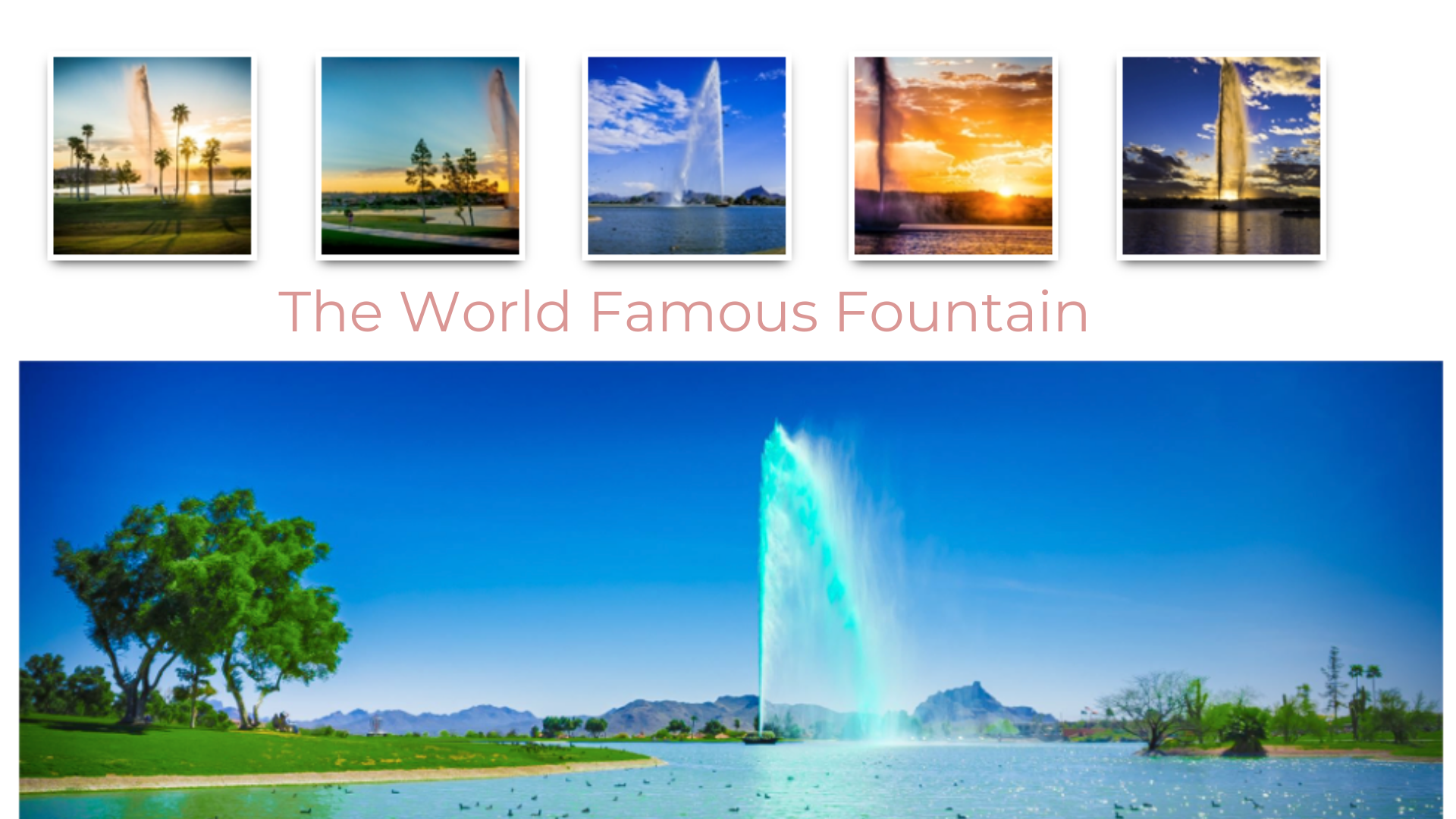 You probably can't believe that we waited this long to mention it — there is a Fountain! It is the pride and joy, and the focal point for community celebrations. Located at Fountain Park, it is a destination for residents and visitors, as well as a popular location for festivals, weddings, and other events.
Once noted as the tallest fountain in the world, it no longer holds that distinction but it is certainly a sight to behold. It is taller than Washington Monument and is three times as high as Yellowstone Park's Old Faithful. Its recognizable white plume is visible far beyond Fountain Hills and can be seen from the Superstition Mountains, Carefree, and even from aircraft. Also, the Town of Fountain Hills provides live streaming for people around the world to experience its World Famous Fountain!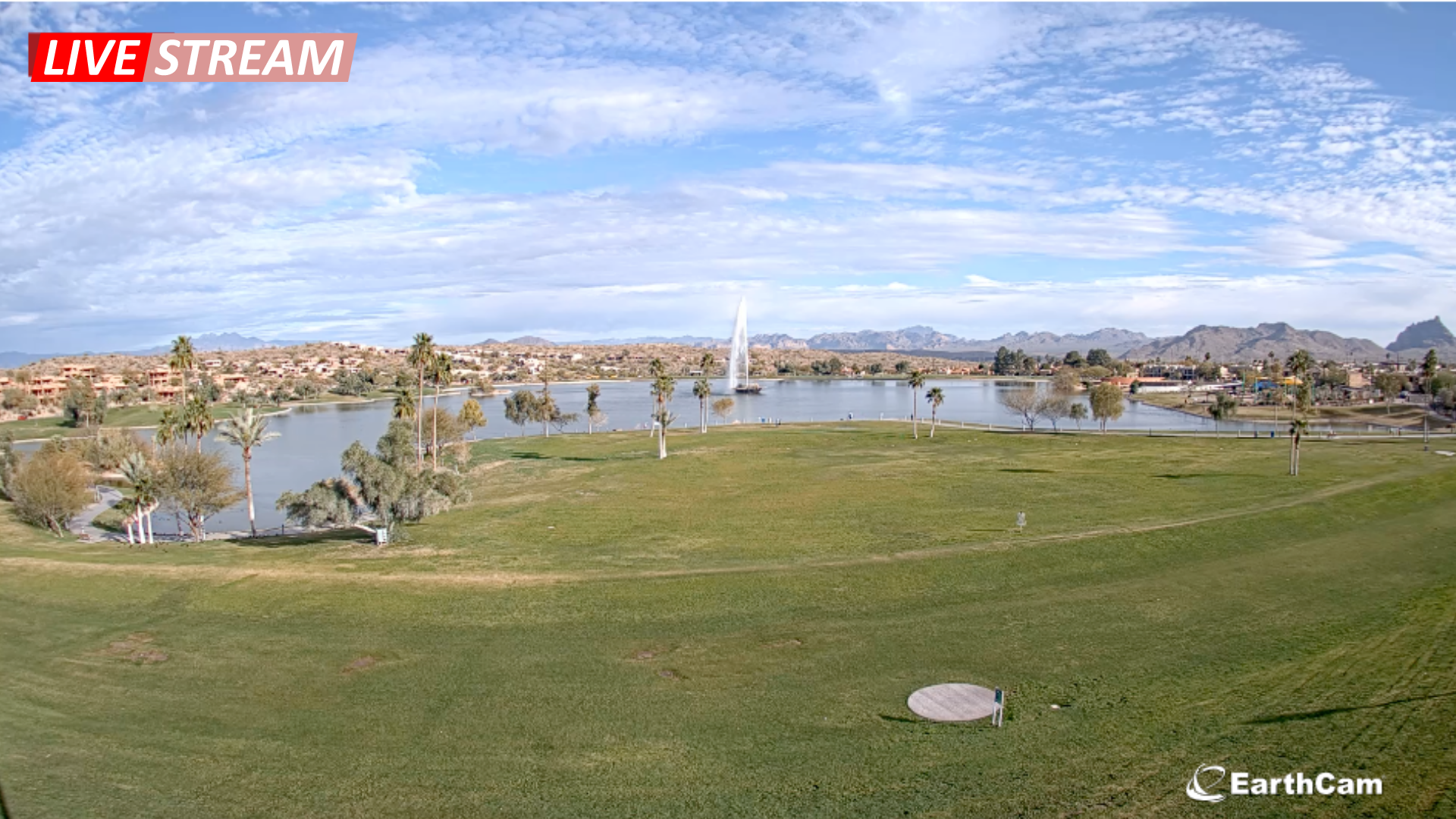 The fountain runs every day of the week and every hour on the hour for 15 minutes from 9 a.m. - 9 p.m. At its full height, the fountain spews water about 560 feet into the air. Even at its regular height of 330 feet, you can see it for miles around. On St. Patrick's Day, the fountain turns green, and on the 4th of July, it beautifully radiates in red among the fireworks and Balloon Glow.
Golf Courses
Golfers in Fountain Hills rejoice! There are six public 18-hole golf courses right in your backyard: Two at Tonto Verde Golf Club, and one each at Sunridge Canyon, Vista Verde, Desert Canyon, and Eagle Mountain.
In addition to those, one of my favorite courses is located nearby at Fort McDowell. It's We-Ko-Pa Golf Club, with two award-winning 18-hole golf courses.
Amethyst Mine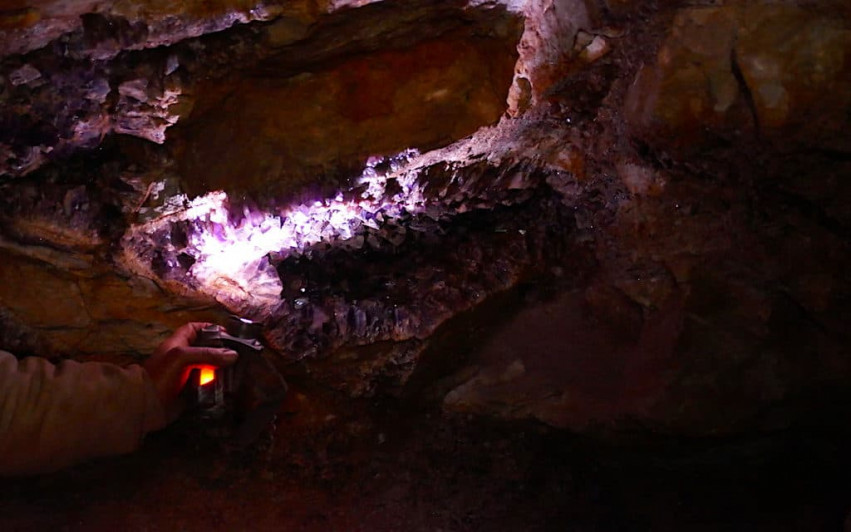 Extreme adventurers will want to take the tour of the Four Peaks Amethyst Mine coordinated by Sami Fine Jewelry in Fountain Hills. Reservations are required, and tour groups are small.
If you can't wait for the next available opportunity, or you don't like helicopters or getting dirty in cramped mines, you might want to simply purchase Arizona amethyst jewelry from Sami's!
Hiking Trails
While you can hike the short and easy Lake Overlook Trail by Fountain Park, the McDowell Mountain Preserve offers a more natural approach to enjoying the desert on foot.
There are several trails rated between easy and difficult, but none are very long. Not far from Fountain Hills, the Tonto National Forest is one of the most visited forests in the country.
About 100 hiking trails will keep you busy for a while. There are also camping, hunting, fishing, off-roading, and horse riding activities.
Museum & Public Art
The River of Time Museum is an often-overlooked gem where you can learn about the history of the area, the Native American migrations through the Valley, the mining history, and the development of the canal system.
Check out the sculpture garden bronzes, murals, and other public art around Fountain Hills. Art walk tours are conducted each month from November through March.
Dog Park
Skateboarders, rollerbladers, and bicyclists can hone their skills at the Desert Vista Skate Park.
Your four-legged canine friend won't be left out of Fountain Hills recreation when they get to go to the Desert Vista Dog Park for some off-leash fun.
The park is a top destination for outdoor fun with a 3-acre fenced facility that allows pet owners to let their dogs run free. Two separate pens exist; one for larger canines and the other for smaller breeds.
The Dog Park is open to the public from 6 a.m. to 9 p.m. Dogs must be licensed and have proper vaccinations.
Children under 12 must be supervised by an adult at the dog park.
Lake
Saguaro Lake Marina is only 20 minutes away for your boating, kayaking, fishing, swimming, and picnicking pleasure.
Alternatively, you may opt for a leisurely, narrated boat tour of the lake on the Desert Belle paddleboat. It is suitable for all ages.

Casino
If it's a casino you crave, you're in luck. Fort McDowell Casino has gaming machines, live table games, and live poker, blackjack, and keno. Get your daubers prepped for Bingo!

Fountain Hills Theater
A non-profit community theater dedicated to providing lively quality theatre experiences. They host many plays, art venues, and popular musicals geared towards all ages. The FHT's Youth Theater regularly produces high quality shows with social or moral value.

Community Center
The Fountain Hills Community Center is the gathering place where you or your kids and teens will want to be for events, programs, sports, classes, and camps.