Batchelor's Pad BBQ in Fountain Hills, AZ shares why this Pad is the Spot that Hits the Spot!
Posted by Agent Crumbie on Tuesday, May 24, 2022 at 7:00 AM
By Agent Crumbie / May 24, 2022
Comment
Tell us about the inception of Batchelor's Pad BBQ, your services, and most importantly...What's in the name?
We started our barbecue because we have a special needs son. First of all, we love to cook, and that's where we'd find ourselves as the kids were growing up, is just in the kitchen, making stuff with them, eating around the table, and so on and so forth. When our son, our youngest son was born with special needs, we wanted to make sure that our goal was to create something where he could always work there and never have anybody give him a hard time. Never have managers that didn't understand that they needed to learn things a different way, so we thought what was the best way but to create something for ourselves. It really grew, with my brother and his wife joining us in partnership and creating something for generational wealth for our entire family.
Batchelor is our last name but a lot of people said what's going on with that name. We're proud of our last name and with a name like that, why can't you say Batchelor's Pad? Some people even asked if it's a gentleman's club and we kinda laugh and said; in Fountain Hills?
We offer BBQ each evening (Monday - Saturday) at our downtown Fountain Hills restaurant. We also offer food for events and run a food truck at some farmers' markets.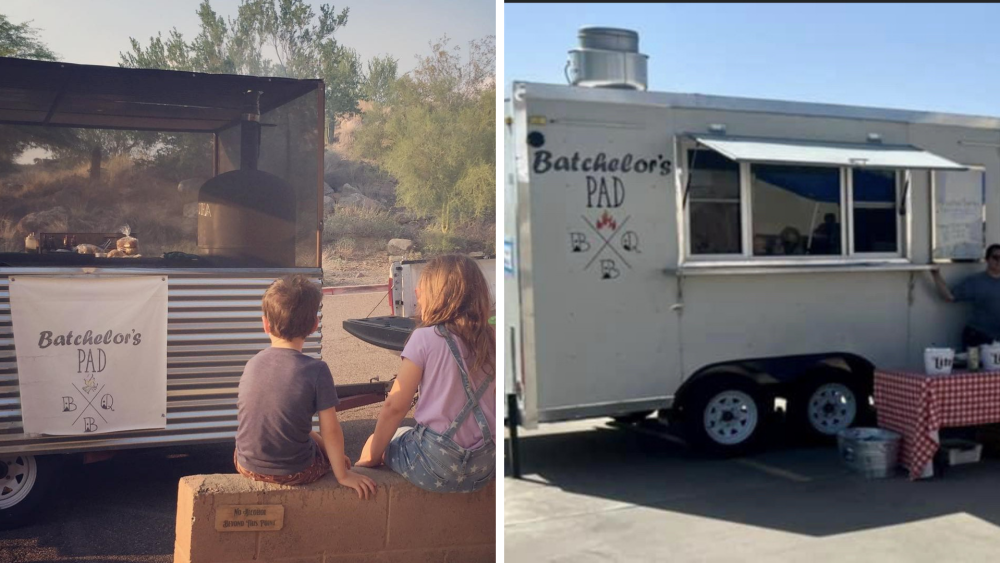 What makes your Batchelor's Pad BBQ style or any of the menu items unique?
All our menu items are unique. As you go across America, there are many different styles of barbeque. You've got the south, you got Kansas City and Texas. Actually, the northeast area got a lot of different stews, and so on and so forth that they call barbeque. What we've done, is, that we've moved so many times throughout our lives that we're able to take these different styles and kind of meld them together.
While our brisket is Texas-style, smoke and rub first, we melded that with just general southern style pork. There's not a whole bunch of stuff on it, and then at the end, we finish it with a vinegar-based sauce. We also have some other hidden menu items: our baked potato and we actually have customers that come in and they augmented it so much and added their own little thing. They actually take the toppings from the nachos and put them on top of the potatoes. That's a hidden menu item that you gotta know about as it's not on the menu.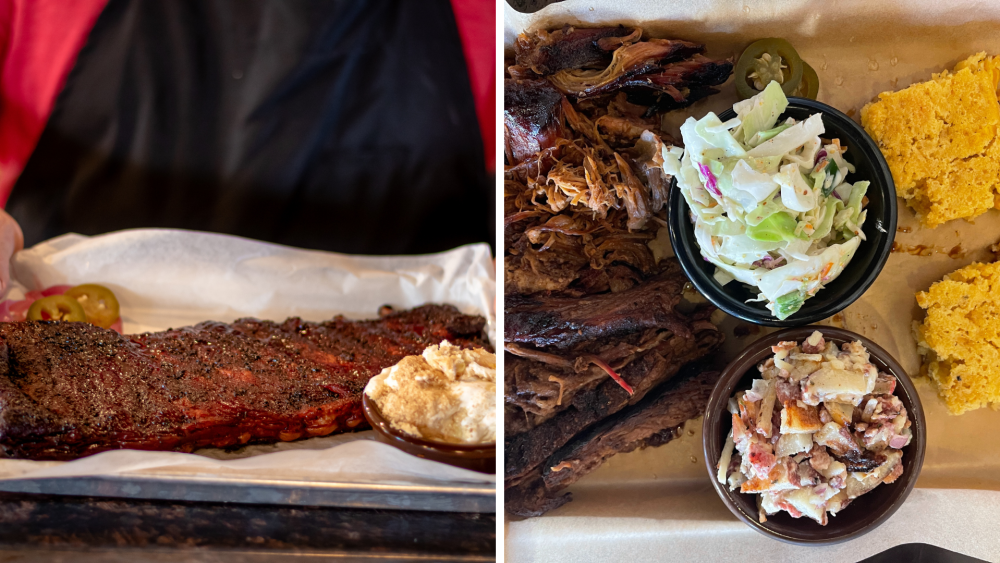 Is there a Batchelor's special on the menu that has customers saying...I gotta have it?
I've got a couple, the macaroni & cheese, and our brisket...People just love it. We put that on our duke, which is a sandwich for lunchtime. That's a favorite! Everybody that comes in for lunchtime, 90% of them order the duke, so it's a brisket sandwich. On our deserts, the bourbon pecan pie is a crowd favorite. And then you can't ever go wrong with the banana pudding but the smoke bourbon pecan pie is pretty darn good. We can't stop without mentioning Mary's cornbread. It's almost like a desert cornbread. It got the wonderful flavors of corn in there and then it got the honey drizzle on top. It's incredible!
Let's talk about the community. How do you support the local Fountain Hills community or anywhere else in the Valley?
Let's start with Fountain Hills. We love high school sports, no matter what sport it is, we love going to it. I mean, we haven't had kids in high school for years now but we love going to the softball games, the football games, the basketball games; when we get a chance. We run a restaurant so we don't get that much chance but when we do get a chance, we love that. So we wanna support them by supporting their booster clubs and so on and so forth. So we do, we provide pre-game meals to the football team, and we donate to their booster club, and then on top of that, if any one of our employees who also go to Fountain Hills has any type of fundraising, we try to get in the middle of that.

Outside of the Fountain Hills community, we really focus on foster care, which is an underserved community around the valley. There are so many foster kids without a home and we've seen that as a mission for us to support it, so my wife and I actually do something called TRAC (Team Reach Adventure Camp) where we're challenged courts facilitators. So, we shut down the restaurant for an entire week during the summer and we go spend that entire week, not resting and relaxing in Jamaica or somewhere else, we'd love that too but we actually go up and we spend time with these kiddos that get a chance to go to summer camp where some people wouldn't, or some of them wouldn't.
Is there something you know about Fountain Hills, that you think not a lot of other people know?
So when we first came to the Valley, we were searching for a place to live. We moved from a small town in Texas, a relatively small town and their arch-rival was right across the highway and when you talk about Texas it's a lot about the high school rivalry right, no matter what it is, and right across that highway was the arch-rival and between the two towns, you got about 60,000 people. So about 30,000 people in our town but we enjoyed that small-town community and when we moved here it was such an, oh ma'an, it was like we moved into a big city again and we didn't wanna live in a big city.
So we found this town and we walked around, enjoyed walking around the Fountain. At that time it was summer so winter visitors weren't back yet and so we thought, gosh, this is so quiet, so serene. And when we picked our house, we had a couple of winter visitors' houses around us, we didn't even meet our neighbors until a couple of months later. But once everybody came back, everybody introduces themselves to everybody and enjoy the community of other people, and that's what we were looking for. A small-town feel where everybody knows everybody and everybody takes care of everybody. And that is what community is about.
Where do you see your business in the next few years and how can the local community support you and your vision?
We're creating something that's going to be open, we're hoping for a very long time. Long past my wife and I, and my brother and his wife and much into when our children take over and have children. And so you don't do that off of one restaurant. So we're hoping to expand in the next couple of years to another restaurant, maybe even more. We do have a food truck as well that actually goes around in different parts of the valley as well, and then even up north to Prescott and Flagstaff. That food truck then will help as well, so continuing to grow. We don't want to get so big that it's not manageable within our grasp. You know, once you jump from one restaurant to another to a second, it's a big, big step. It's the bigger step, bigger than going three or four even. But we wanna get it to where it's manageable and we do grow a little bit and it's something for Mary and me, and my brother Trent and his wife Kristi that our children can manage or be involved.

How the community can help...Just come in. Understand what we're trying to create here. Our favorite thing is to be cooking together with people, cooking together with family and friends, and sitting around the table with family and friends. You know when we first got here, there was a group of friends that brought us into other families and we would go out to eat every Friday night with those other families. The kids got to be good friends, we got to be good friends, and we'd go out every Friday night and have a good time. That's what we're trying to create, a place where people wanna go and hang out and have a good time, and that's it. Just come here and make sure you understand that we're trying to make it like our home - like a family. That's our goal.
When we post on "instant media, I call it instant media - not social media, because it's right there. When we post on instant media, it's about thinking about our family and friends, just like at our ribbon cutting, those people are our family and friends now to us. We want you to know that once you're here, we'll remember your name. We may forget once, but once we get it, we'll always remember. Everybody's name means something to them and so if you don't take the time to remember that person's name, you've then told them that they're not as important to you as somebody else. Now, one or two times, I get it, you know not everybody remembers everybody's name. But I tell you what; after you've been a regular customer and you don't remember somebody's name, goodness gracious, what are you doing? It's all about creating a family environment.
So, you mentioned that you'd like your business to be the vehicle for generational wealth in the next few years but what about you personally? Are there any milestones that you see yourself achieving?
You know, I just wanna continue to, this is gonna sound cliche, but I want to continue to invest the time into the foster system. Being able to free up time here, you know, with hiring our oldest son as our general manager, I want to be able to free up that time that I can spend more time with that community - that underserved community. I've had to pull away from a lot of things at our church because we've opened this restaurant but I wanna do those again. My heart has a longing for that and personally, I wanna go back to that and then be able to spend more time with my wife.
Evidently, your family has the most important influence on the business and on you. So tell us about the family photos that are on the tables throughout?
As I've mentioned before, we want this to be a place where you felt like you were coming into our home. So that's why we have the pictures on all of the tables around. So we want you to see us growing up. You know, there are pictures of Trent and me as kids, there are pictures of our boys and us growing up and getting married and growing up. Um, you'll see some very unflattering pictures of myself all over the restaurant on the tables. But if I didn't show those to you, then you wouldn't know me, right? Um, and then you wouldn't know our family as well. So that's it really. They're there to show how we grew up and who we are.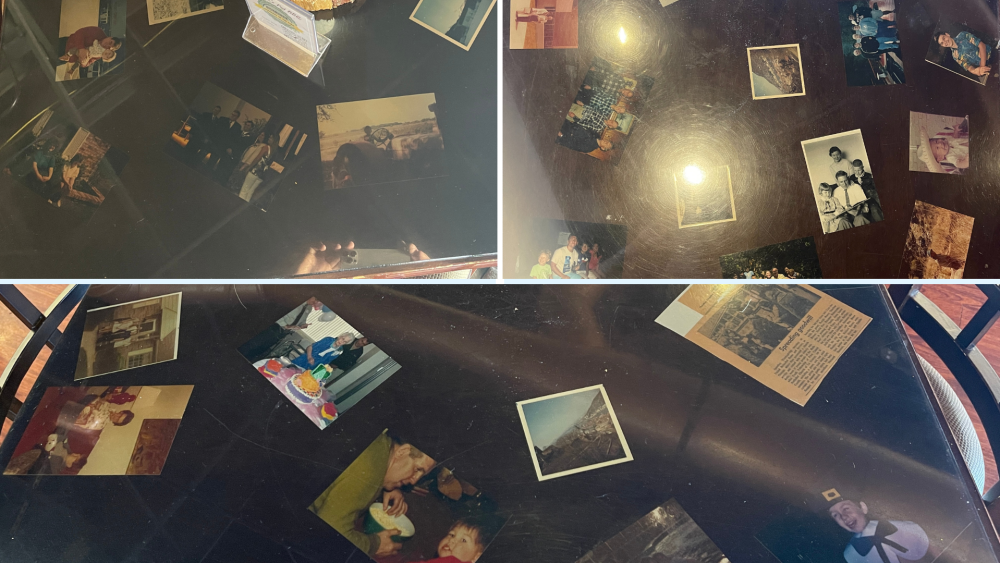 What are some top reasons for people who haven't been here to come to try it out?
We have one other sandwich that's not on the menu. It's been around since we first started and it's called the GOAT. It's not because there's Goat meat in it, it's because it's the "greatest of all time" and there are many different variations of the Goat. So there's the Goat, Erik style, there's the Goat Aden, and there's just the plain Goat. There's no curry goat at all, but with all of those, you could never go wrong with that sandwich. Also, just so you know, we open up our Food Truck and we're actually starting to do fresh ground pork belly burgers that will be on the food truck only. As I said, they're fresh ground; we take some pork belly, we take some brisket, we dice them, chop them, and then put our brisket seasonings in it, then ground them all together, make patties out of them, and that's how we do the burgers.
Are there any areas of the restaurant that customers can reserve for private gatherings?
The good news is, that we have two different levels to the restaurant so for those that haven't been in, we have the upper seating area that we block off for different events. We've had the Chamber of Commerce events here and community groups that have asked us for this. And then what we do, is we work out a price based on what you gonna order. So if you have a full meal, then we'll work out that price, you could have a set menu and we can serve that, or we could just do appetizers like we've done for the Chamber at the ribbon-cutting where we put a table up and we put appetizers out and then we just bill based on the appetizers per person.
When it comes to renting the entire restaurant, that is available as well. To everybody that's a Chamber member, the restaurant is available from 5/5:30 every morning all the way until we open at noon, the restaurant is open to them to use free of charge. For everyone coming in for a group event, we ask for at least a week's reservation in advance as that gives me enough time to order the food we need and to cater the menu.
Where can people find you?
We're located at 13407 N La Montana Drive, Fountain Hills, AZ 85268
Website: https://batchelorspadbbq.com/
Phone: 480-336-8884
Facebook: /batchelorspadbbq/
Instagram: /batchelorspadbbq/