Top 10 Mistakes That Prevent Your House From Selling
Posted by Agent Crumbie on Sunday, April 26, 2020 at 12:25 PM
By Agent Crumbie / April 26, 2020
Comment
Many homes for sale sit on the market for far too long only to come off the market unsold. When a property is listed for sale and doesn't sell during the listing contract, it becomes known as an expired listing. Not only will it need to be relisted, it means even more time before your house is sold.
The good news is there are many steps that can help your home sell! Read below to learn common mistakes that prevent your house from selling, and how these mistakes can be avoided! Using our solutions your home will have the best chance of selling quickly, and for the best price.
1. Not using a professional photographer and videographer
Many Realtors don't want to spend the extra money from their marketing budgets on professional photography. Instead they take photos themselves on average camera equipment or even on their Smart Phones. If they film a video, many times they will have it as a slideshow of still photos or a shaky video with bad lighting. Bad photos and low quality videos can misrepresent a beautiful home, and keep in on the market longer.
Great property photos are taken by a skilled professional. High-quality images provide great detail, highlight the features, and show your home in the absolute best light.
With the digital age we live in, quality photos are extremely important. When buyers are looking through listings they are bombarded with photos, and your photos need to stand out. If they are going to consider clicking on your listing and further consider viewing your home, the photos need to impress them.
Having low quality photos can make a poor impression and make buyers less likely to view your home.
Solution
Pictures tell a story. When buyers are looking at listings, stunning photos are essential. Choose a real estate agent that has a dedicated marketing budget, and works with a professional photographer.
At Team Crumbz, we team up with top photographers and videographers to showcase your property to the world using high resolution photos. For each of my listings I have high quality photos taken and immersive video tours filmed by skilled professionals. Our professional photographers use state of the art camera equipment to take stunning HD photos and video of your home. We make sure all of our listings make a great first impression.
Interviewing agents and finding one that believes quality photos are a priority will make sure your home is shown in the best light, and has the best chance of being sold.
2. Pricing Errors
It's extremely common for a property to not be listed as a whole number. For example, a house may be listed at $649,990 instead of $650,000. People believe this makes a home appear more affordable, but this is a major error! Most real estate websites like Zillow have price bands that end in whole numbers. That's because when a home is priced at 649,990, buyers searching from $650,000 - $700,000 wouldn't see the home priced at $649,990, therefore missing the potential of viewing and potentially buying your home!
Solution
Price the home using only whole numbers, that way it will remain in all search results.
A home priced at $650,000 will show in search results for $600,000-$650,000 and $650,000-$700,000. This gives your home the opportunity to be seen by more buyers.
3. Not having the home staged or preparing the property
The first step is getting buyers to want to view your home, but what happens once they arrive is what's most important! When homeowners are in the process of selling the home they are still living in, they will usually just clean their house and leave it as is when potential buyers come for a viewing. Other times homeowners already moved into their new home and leave the home they are selling empty. Both of these are mistakes! When potential buyers view a home they want to be able to imagine themselves living there. When someone else's family photos are on the walls, or they view an empty home, it's harder for them to picture themselves moving in.
If you were a home buyer, would you prefer a home that was clutter-free, inviting, well-maintained, and ready for you to move your own possessions in, or would you be more drawn to a home that's cluttered with the current owners belongings, and decorated in their style?
We talked about how important quality pictures are. Another common mistake is having property photos taken before a home is prepared and staged...leaving average photos as a result.
Solution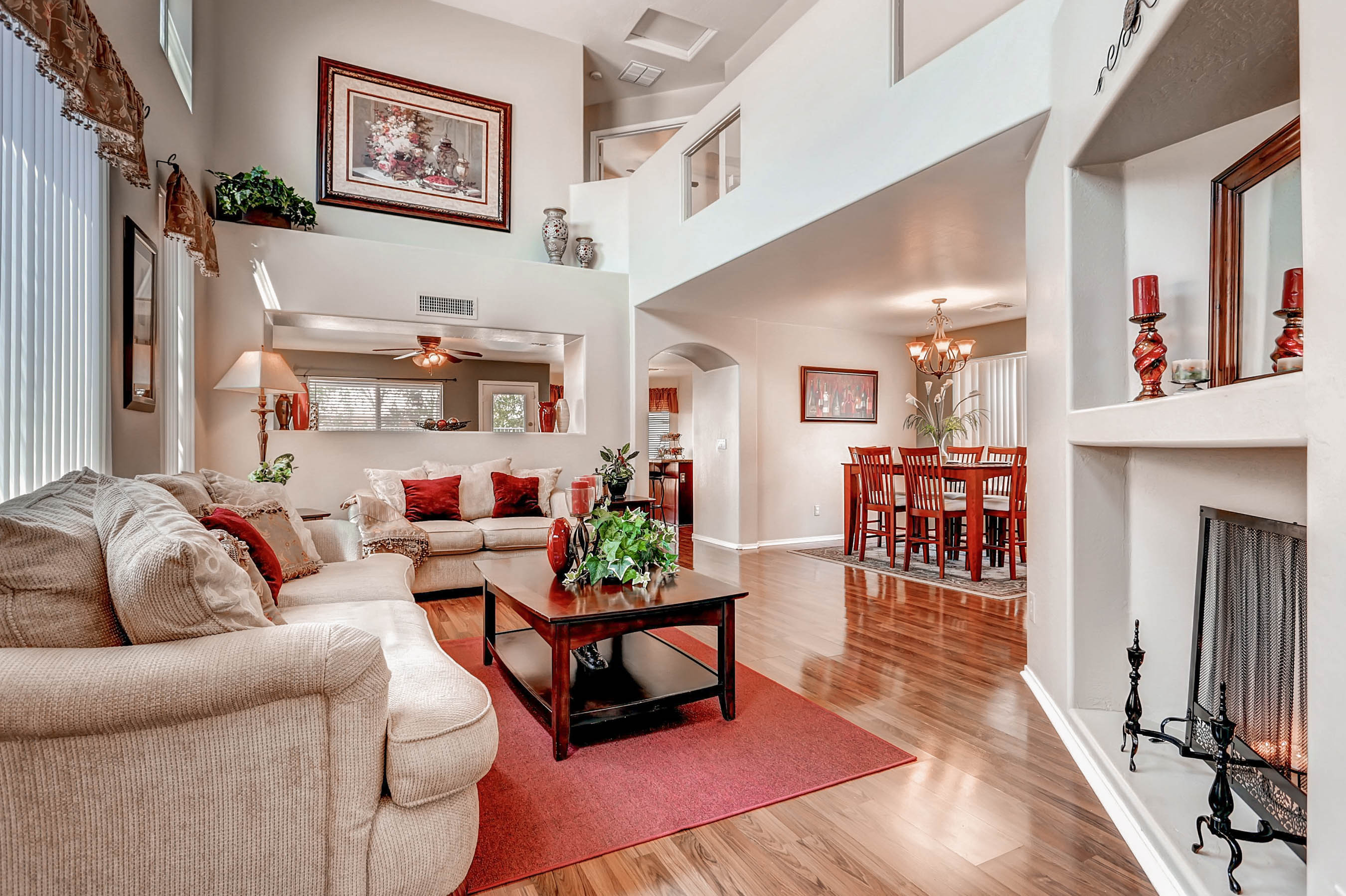 Most sellers have two goals: selling quickly and for the highest price possible. Staging is one of the best ways to meet both those goals!
Home staging is the process of clearing away clutter, making your home sparkling clean, removing personal items, improving curb appeal, and all with the goal of creating an inviting space that appeals to the greatest number of house hunters.
I know what a difference home staging can make, that's why I'm a certified home stager and offer staging services for all of my listings. When you have your home staged, you're creating a welcoming space that appeals to a greater pool of potential home buyers. Staging creates a neutral canvas that makes it easy for house hunters to imagine turning your house into their home. A clean nicely decorated home creates a "wow!" factor that will make buyers feel at home and want to picture themselves living there.
Besides, Research indicates that investing in staging pays off. Staged homes tend to sell for an average of $1,700 more than comparable, non-staged properties, representing an average return on investment of more than 580 percent!
4. Lacking proper research before putting your house on the market
Before putting your house on the market, many real estate agents won't check to see if there are any open permits, violations, or additional liens on the property. Therefore, many real estate agents will discover an open permit or violation when they are close to closing, which can cause issues and/or potential expenses for the sellers and the agent. Even worse, sometimes the sellers have already bought their new home, but in the end, due to these discoveries, the buyer backs out and the seller is not able to close.
Solution
Fortunately, many open permits and violations can be fixed prior to putting your home on the market. With all of my listings it's a priority for me to check on any outstanding permits or violations so I can guide the seller in the right direction to get the matter resolved before it becomes a problem.
5. The real estate agent does not know how to properly market on social media
We live in a digital age where social media and online marketing are bigger than ever before. There are so many social outlets, websites, and marketing opportunities to get your home in front of the most buyers. Many real estate agents have not taken the time to learn or get training on marketing strategies and social media best practices. Therefore, many don't market their listings to its full potential, leaving your home sitting on the market not being advertised.
Other times, Realtors market your property poorly, making a bad first impression and deterring buyers from being interested.
Solution
Finding a real estate agent that has a dedicated marketing budget and proven marketing strategies is key. Take your time to interview agents until you find one that shows how they are going to market your property using the latest and best tech strategies.
Here at Team Crumbz, we go above and beyond our client's expectations when it comes to marketing their home. That's just another factor that sets us apart from the average Realtor.
Our marketing plan for selling homes is proactive, aggressive, and above all, results-driven. We have a custom marketing plan and a dedicated marketing budget to getting your home sold.
When it comes to social media, we have invested in cutting edge digital marketing technology, and utilize all of the up-to-date social media platforms that consumers use today.
6. Waiting until your property is listed to start marketing
The average Realtor waits until a home is listed in the MLS to start marketing. They also tend to wait for buyers to come to them. We do things differently. Before your home is even listed we launch a marketing campaign to get potential buyers and buyer agents just as excited about your home as we are.
Solution
Pre-Listing marketing is very important! Find a Realtor that launches a marketing campaign before your home is even listed to get your property in front of potential buyers and buyer agents. This not only gives you a head start advantage, it gets potential buyers excited about seeing a coming soon property and knowing they have the chance to see it first!
Pre-listing marketing campaigns can get 100's of potential home buyers interested in your home before it even hits the market.
7. Photo Order
Most real estate websites and apps are setup to show thumbnails of each listing, meaning potential buyers only see the first photo of your home. To view all the photos they need to click each individual property.
Many Realtors put the exterior front of the home as the featured photo. That is the first and likely only photo the buyer will see. If it's not a stand out photo, they may never click to see more. Many times, the best photo is not the front of the house, but possibly the beautiful sparkling pool, or the bright and airy living room. Most potential buyers click through dozens of pages seeing 100's of property thumbnails. They may never click to see your property if the featured image does not stand out.
Solution
Work with an experienced real estate agent that not only will have high-quality professional photos taken of your property, but will help you choose which photo will stand out. Also, make sure to put the best pictures first. Usually, if the buyer likes what they see, they will keep looking and read the description and details of your home.
8. Property Description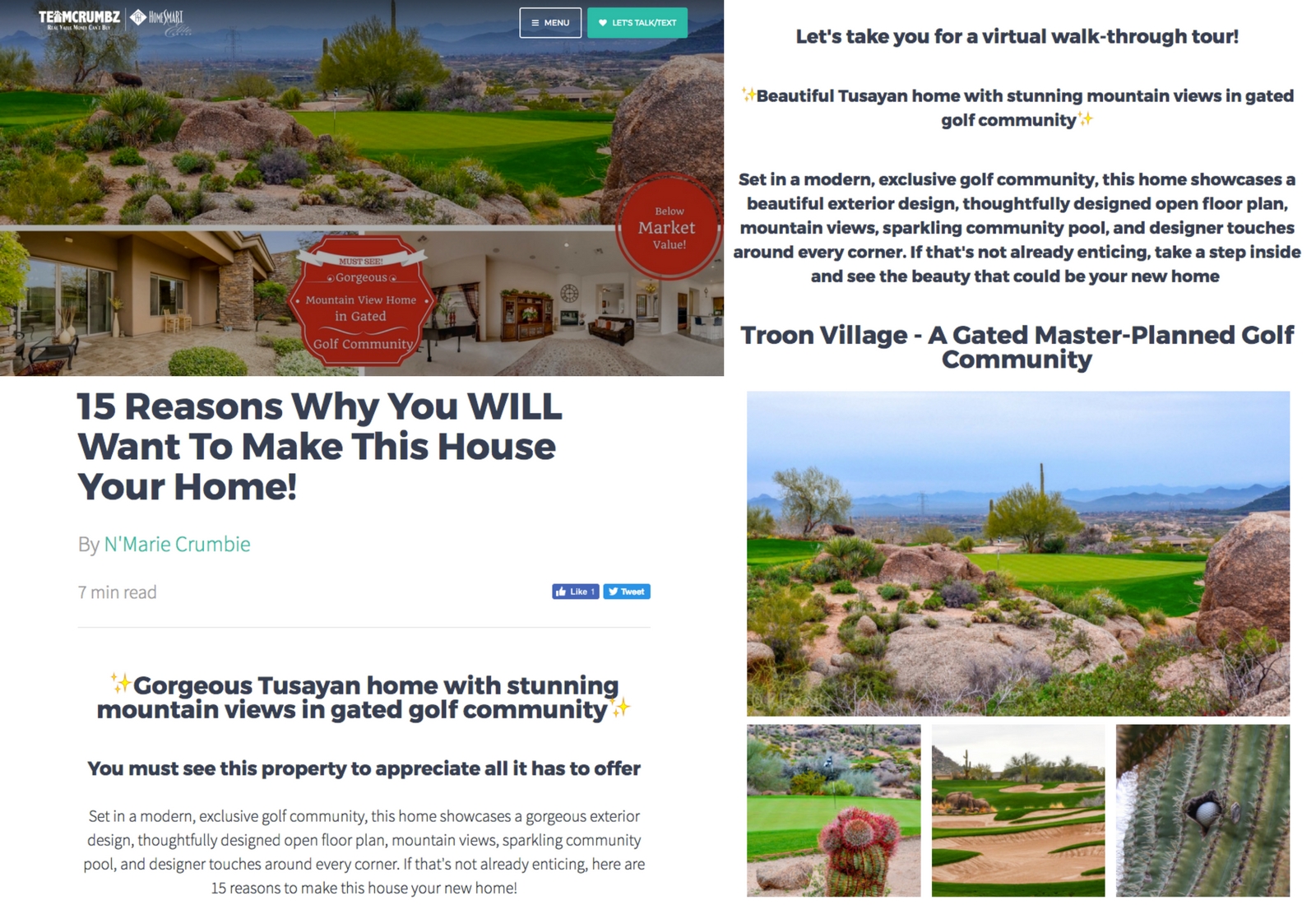 When a Realtor lists your home they usually write a property description with the details of your home for potential buyers to read. Many agents will write a quick generic property description leaving out pertinent details and highlights of your home, missing the opportunity to tell a story and get buyers interested.
Average description - 2 Bed/2.5 Bath 3,200 sqft with open floor plan and updated appliances in sought after Phoenix, Arizona neighborhood.
Solution
When considering Realtors, look at some of their listings and make sure they take the time to write a detailed property description.
Your home is special, and buyers should know why. Property descriptions should tell a story and highlight everything that makes your home special.
Each of my listings has a unique property story that immerse buyers into your home with detailed descriptions.
Your house is not a 4 Bedroom/4.5 Bath 3200 sqft home. It's a luxurious 4 Bedroom/4.5 bath Spanish designed home with stunning architecture covering 3200 sqft in a prestigious golf community.
It's not an open floor plan with views. It's a thoughtfully designed floor plan with mountain views, designer touches, and state-of-the-art details around every corner.
The patio is where you enjoy desert and mountain views on a sunny afternoon, or relax and watch the sunset on a cool evening.
We want buyers to hear first hand what they will love about your home. We tell them that story.
9.
Hiring a friend or family member without interviewing other agents to see who is the most qualified.
It seems great to work with friends and family, but if you want your house sold in a timely manner for the best price, finding a realtor that is the most qualified is of upmost importance.
Most Realtors provide average services. They put up a For Sale sign, enter the listing in the MLS, promote it on their website, hold open houses, make a brochure, and advertise ineffectively on social media.
The average agent will set up an email blast to every client and every Realtor on their list. This may sounds like a good idea because it gets your home in front of many eyes, but it's not a good strategy. With such a large contact list, the email will likely end up in the spam folder, preventing potentially interested and motivated buyers from seeing your house.
With the vast number of available homes listed daily, Realtors and buyers have numerous choices to select when viewing homes. Providing only these average services can keep your home on the market far longer than you anticipated.
Even worse, you may be left settling for an offer you're unhappy with if your home isn't viewed by numerous interested buyers.
Solution
Opt for a Realtor who goes above and beyond the average realtor, and exceeds your expectations.
Interview Realtors until you find an agent that has an effective marketing plan and testimonials from satisfied clients.
Working with an experienced and qualified Realtor will ensure they have the right network of buyers and agents, and know who to contact.
With each of my listings I thoughtfully choose and categorize the recipients that receive each property email, and make sure it gets in front of the right buyers and buyer agents.
Sending smaller email campaigns to relevant groups will increase the open rates substantially and will have a much lower chance of going to a spam folder.
From beginning to close, we have an effective plan for each of our unique listings.
10. Working with a Realtor that doesn't know best practices for comparing competition and offering suggestions
A skilled real estate agent will know the best way to price and market your home.
Many agents will look at estimates on Real Estate sites, like Zillow, and average them out to get a list price for your home. They also may look at previous sales on these websites and determine the price that way.
These methods are inconsistent because websites like Zillow don't always provide the right numbers. Many times the estimates are too high or too low of the actual price, so only using these estimates don't generally give a proper list price.
A great example is Zillow's CEO, Spencer Rascoff, who recently sold his home for forty percent less than Zillow's Estimate.
It's also important to keep in mind that buyers who are motivated to find a home frequently look at the market and what's available. Therefore, it's very important to work with a Realtor who knows how to properly research the market and price your home.
A home listed too high or too low rarely ends with a happy seller.
Solution
Work with a Realtor that compares properties in your area and can give you an honest opinion on how your home measures up against competition. From architecture and style, bedroom and bathroom number, size and land, to proximity to amenities and highways, quality of interiors and appliances, and everything in between.
Your house should be priced based on many factors. When you work with a qualified real estate agent, they will know what to look for, what similar properties have recently sold for, and what direction the market is heading in order to give you suggestions and fairly price your home.
Buyers want the most house for their money, but comparing your home to others doesn't necessarily mean changing your property. A skilled real estate agent will be able to suggest home improvements and updates to get your house in a condition to sell for full asking price. A few simple improvements can make a big difference on the sale of your house.
Interview agents and find one that knows the price bracket and reality of the market in your area, and stays up-to-date on trends that might impact your sale.
At Team Crumbz we know what to look for and offer meaningful advice. We stay aware of market trends and know how to price your home to get it sold in a timely manner, and for the best price!
Work with a real estate agent that provides premier services and customer service. Most importantly, one you feel comfortable with. Working with a Realtor that takes the time to go above and beyond will be sure to get your home sold in no time. When your agent spends more time upfront having your home staged, professional photos taken, writing a property story, researching and comparing, and launching an effective marketing campaign, your home will make a great first impression and attract motivated buyers.
Follow the steps above and your home won't be on the market long!